The Digital Skill Framework (DSF) is a framework for defining ICT skills built based on SFIA Skills Framework for the Information Age, a framework for defining ICT skills around the world. With the expansion of the ICT industry, the need to develop and manage ICT skills has grown. To be able to develop these skills efficiently and assess them accurately, we first need to define them properly. DSF has recognized this need, and has developed a framework that identifies skills in ICT and supporting fields, defines them, and rank associated levels of responsibility for each skill. The framework identified 102 skills, and 7 different possible levels of responsibility. An individual possesses a skill-based on their ability to apply this skill in a real-life situation, not based on academic qualification or professional certification. These may help an individual gain a skill, but they are not the only way to gain DSF skills, nor are they always sufficient.
A summary of the different skills and their levels of responsibility shows in the chart. Adopting DSF in Saudi Arabia establishes the terminology for defining skills, and constitutes a common language that be used in market studies, as well as the assessment, development, and employment of skills. A complete reference guide for the DSF is available.
DSF Based Services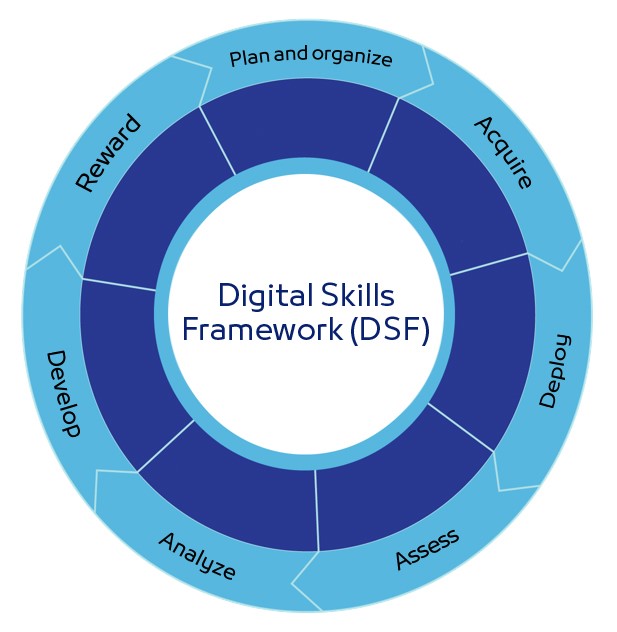 Companies that adopt DSF can benefit from multiple services that have developed in the DSF eco-system. These services designed to help the organization plan its workforce, accurately identify the needs, assess its current employee skills, attract the right skills, and build tailored development tracks.
Below are some of the most important services that are available in the market for companies adopting DSF:
Workforce Planning and Organization
The first step an organization needs to take in the adoption of DSF as a platform underpinning its human capital development efforts is usually mapping all its roles against the associated DSF skills and levels of responsibility. This exercise is an important and essential one in the DSF adoption journey. The step it can be using resources within the organization for smaller organizations, but is more often implemented with the help of a DSF consultant.
Skills Assessment
One of the basic needs for an organization after identifying what skills it needs is to be able to assess what skills its current and candidate employees possess. Many companies in DSF eco-system offer assessment services. These include self-assessment tools that allow staff to identify the skills they believe they possess, as well as verified assessment services that use SMEs to provide an accurate assessment of the employee / candidate skills profile.
Skill Analysis
Based on the skills mapping for each job role, and the skill assessment of current employees, a skills gap analysis can be prepared. This type of analysis clearly identifies the skills development areas for employees as well as the organization in general. Based on this analysis, individual development plans can be prepared for each employee, as well as a workforce plan for the organization as a whole.
Skill Development
Once an organization has identified the skill gap within its pool of resources, it is important to remediate that through skill development activities. Some organizations may have internal skill development tracks that cater to their specific needs. However, most organizations will employ the services of external training institutions. Because of the prevalence of DSF as the standard skills, it makes sense for organizations to employ it in their skill development efforts. This may include external training that already has assigned for the required DSF skill, internship or project task to develop the skills required. This provides convenient development options for companies using DSF.
Q1: Are there other skills frameworks in the world?
A: Yes, there are a few other frameworks in the world, but DSF is by far the most prominent amongst them. MCIT has surveyed the existing frameworks and found that the SFIA framework is the most widely used and accepted, and has the richest system of services and products that can used to assess, develop and employ skills.
Q2: How does an organization benefit from adopting SFIA?
A: The task of understanding what the ICT skills are need within an organization, assessing the existing pool of skills, and developing or attracting the missing skills is a complicated one. It is greatly simplified by the development of a skills framework that defines and classifies skills. It is further simplify by the many services that developed by companies in the DSF ecosystem to assess, analyze, develop, and attract skills. Companies that adopt DSF can potentially benefit from these services to fully understand their human capital needs, and work on satisfying them through training, or recruitment.
Q3: Where do I get more resources about DSF?
A: There are multiple sources of information on SFIA:
- The DSF reference guide (
AR
).
-
Digital Skills Framework video
.
- Skills Summary Chart (
EN
|
AR
).
-
In addition, you can register for the workshops will conducted in different cities around the kingdom to introduce DSF.
Q4: Is there any training or consultation company can help me adopting DSF in my organization?
A: Yes, there are many consulting companies specialized in adopting the framework around the world (including Saudi Arabia). The services can used to use the framework in developing human capabilities in the field in any facility.
Q5: How can I as an individual benefit from DSF?
A: Individuals can take advantage of the framework in defining and planning the career path, by identifying the target job, then identifying the skills needed for that job and then working on acquiring those skills.

Four workshops will be held in different cities around the Kingdom to introduce DSF so you can adopt it and benefit from it in your organization.
| | |
| --- | --- |
| Location | Date |
| Riyadh | - |
| AlJubail | - |
| AlKhubar | - |
| Jeddah | - |
---
We will be pleased to help you know more about the Digital Skills Framework.
Email us.