e-Government Program's Services
Evaluate Government Services (Observatory)

Government Services Observatory is a tool to evaluate government portals and e-services using standard criteria, aiming to facilitate the use of these portal and access for citizens and residents, and provide recommendations to government agencies to upgrade maturity and improvement, as well as to render (create and update) a guide to best practices for designing portals and e-Government services.
View Guide >
View Service >
---
Interconnect to Government Secure Network (GSN)

Establishing a communication network for e-Government transactions, to interconnect government agencies to each other, and to enable the e-Government Data Center to be the effective, cost-saving and unifying Link for interconnection.
View Service >
---
Apply for Interconnection to Government Services Bus (GSB)

This service allows a government agency to apply for interconnection as a provider or consumer of data and shared services. The GSB provides one-time development and multiple use of the developed service, thus providing shared data for a wide range of government agencies. It consists of data providers and consumers, and provides built-in service feature, where a consumer sends and order for the GSB, which then collects the data from several sources and sends the required data to the consumer.
View Service >
---
Measure e-Government Transformation

This service enables a government agency to measure how much it has achieved in the e-Government Transformation through an electronic form that contains indicators in the form of questions to be answered by government agency. The system then calculates the points obtained by the agency on basis of its answers.
View Service >
---
Apply for Interconnection to National Contact Center (Amer)

The service provides response to inquiries from the public and e-Government beneficiaries. It also provides support and information regarding services and e-transactions performed by government agencies to beneficiaries.
View Service >
---
Request publishing services on National Portal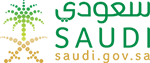 Government services are published on the National Portal ('Saudi') with its description requirements and link (URL) according to its category, in a way that helps visitor to access the service he needs from government agencies. This includes providing means to help the visitor understand how to use the service through videos or guides. The Portal provides single sign-on (SSO) access to individuals for use in other government protals.
View Service >