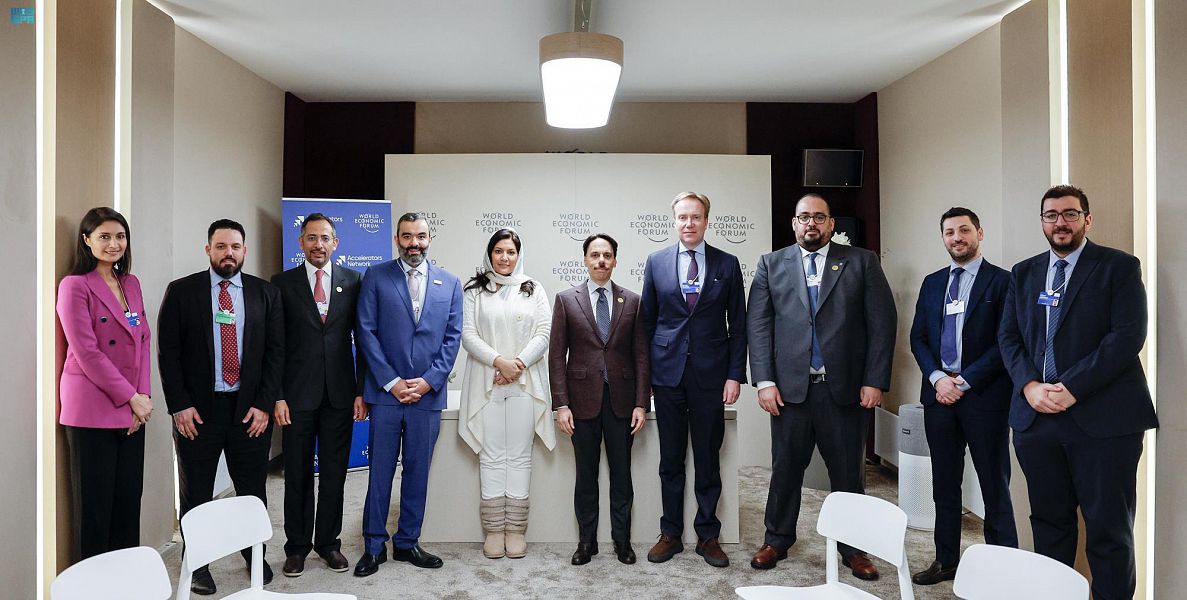 01/25/2023
Saudi Arabia Reaffirms Commitment to Bridging Global Divides, Driving Energy Transition, Inclusive Economic Growth at WEF23
 The Kingdom of Saudi Arabia reiterated its commitment to build bridges across geopolitical and economic divides at the World Economic Forum 2023 Annual Meeting in Davos, Switzerland last week.
Prince Faisal bin Farhan, Minister of Foreign Affairs, who led the Saudi delegation, told the world that geopolitical stability is key to global energy security, noting that the Kingdom has "become the meeting place between East and West."
Underlining the Kingdom's drive to put women at the heart of its economic transformation, Princess Reema bint Bandar Al Saud, Saudi Arabia's Ambassador to the United States of America said, "Saudi Arabia addressed inequality from the start of the Vision," while noting that the Kingdom has already surpassed the 2030 targets set for female participation in the economy.
Explaining Saudi's ambitions to build greener cities, Adel bin Ahmed Al-Jubeir, Minister of State for Foreign Affairs and Climate Affairs Envoy, said Saudi is aiming to "make life as productive, pleasant and efficient as possible – whether in a small town or a large metropolis."
Khalid bin Abdulaziz Al-Falih, Minister of Investment, described how Saudi Arabia is "playing to its strengths" to enhance local and global supply chain resilience, to become a key hub in global networks to offer "access to materials, ships and the most sustainable energy mix."
Outlining the robust position Saudi Arabia is in to weather the headwinds of inflationary pressures, Mohammed bin Abdullah Al Jadaan, Minister of Finance, shared insights on the importance of regulation in financial innovation, explained that, "Vision 2030 was a breakthrough in the way that Saudi thinks about the economy and fiscal discipline."
Abdullah bin Amer Alswaha, Minister of Communications & Information Technology, said that closing digital divides, "connecting the unconnected world" and developing advanced technological solutions, like the metaverse will usher in "the next wave of how immersive experiences work for consumers, enterprises, and industry."
Addressing the Kingdom's industrial strategy, Bandar bin Ibrahim Alkhorayef, Minister of Industry and Mineral Resources, said investments in advanced tech will allow Saudi Arabia to "leapfrog development and create the right jobs" in the manufacturing and industrial sector.
Addressing global audiences on Saudi's strategic approach to investments in transformative solutions, Faisal bin Fadhil Alibrahim, Minister of Economy and Planning, said Saudi Arabia is becoming a "global growth story", with the Kingdom set to "co-create value" with its partners while encouraging bold innovation. "We're trying to build the right business environment in terms of transparency, policy predictability, and an institutional environment that never existed this well before," he added.
Wrapping up the delegation's participation in the World Economic Forum, Fahd Al-Rasheed, Head of the Royal Commission for Riyadh City, discussed the vision driving Riyadh's bid to host Expo 2030, noting the buildings designed to host the world fair will be "multipurpose, repurposed, and used sustainably."
On the sidelines of the 2023 Annual Meeting, Saudi Arabia hosted a dialogue titled 'Toward a Resilient Urban Resource Nexus', with key international public and private sector stakeholders from regional and global organizations, to discuss the sustainability of future cities.
During the dialogue, participants shared experiences and insights on the emergence of new models of urban resilience, and how they can be collaboratively designed, developed, and made globally accessible – as well as how new cities and existing metropolises can evolve to become centers of innovative, green technology.
At the start of the 2023 Annual Meeting, Saudi Arabia participated in a multilateral meeting with the World Economic Forum's (WEF) leadership to explore areas of mutual interest.
The multilateral was attended by Prince Faisal, Princess Reema, His Excellency Alswaha, Alkhorayef, and Alibrahim, Klaus Schwab, Founder and Executive Chairman of WEF and Borge Brende, President of WEF.
During the meeting, Alswaha, Chairman of the Board of King Abdulaziz City for Science and Technology (KACST) and Chairman of the Board of The Research, Development and Innovation Authority (RDIA), and Brende, signed a Letter of Intent (LoI) to establish a new accelerator program to help ignite innovation in Saudi Arabia.
Under the LoI, KACST will work alongside WEF to connect experts and knowledge partners from the public and private sector to identify and unlock new promising markets as part of the ongoing work to transform Saudi's economy.
During the meeting, the Saudi delegates highlighted the Kingdom's role as a Pioneering Partner in the Forum's Global Collaboration Village, which will leverage the Metaverse to serve the global community.
Separately, the Ministry of Investment, in coordination with Ministry of Energy and Ministry of Industry and Mineral Resources, organized an industry leadership dialogue for executive leaders from energy, petrochemicals and mining sectors, to discuss the impact of the energy transition, the role of petrochemical industries and the energy investments needed to achieve net zero by 2060.
Meanwhile, Saudi Arabia's Ministry of Economy and Planning (MEP) in collaboration with the World Economic Forum's open innovation platform UpLink, launched a challenge to crowdsource transformative solutions to secure local food in countries impacted by low rainfall, drought, and desertification.
The MEP-UpLink collaboration aligns with Saudi Arabia's efforts to develop innovative solutions to the world's most critical challenges, through collaboration and cooperation.
The Food Ecosystems and Arid Climates Challenge is a global call for food entrepreneurs, start-ups, social ventures, and small-medium sized enterprises to submit solutions that incorporate low or high technologies or ancestral responses.
The winning cohort will be eligible to access CHF100,000 (SAR408,000) to scale and implement their venture in regions with arid climates, while enhancing their visibility and access to networking opportunities. This is the first of two challenges focused on food systems, with a second to be launched later in 2023 on climate-smart agriculture.
On the sidelines of WEF Annual Meeting 2023, Saudi Arabia – represented by the Ministry of Economy and Planning – joined the World Economic Forum's Jobs Consortium, a coalition of CEOs, IOs, ministers and other leaders with a common aim to promote a better future of work for all by enabling job creation and job transitions.
The Kingdom's membership in the Jobs Consortium aligns with Saudi Vision 2030 and its commitment to building a thriving, vibrant economy that creates new sectors, hundreds of thousands of new jobs, and cross-cutting innovation.
The Saudi Arabian delegation also engaged in a wide range of bilateral meetings, dialogues with global leaders, ministers and CEOs and – for the first time – public panel sessions as part of WEF's Open Forum. These included discussions with high-level public and private sector representatives from several countries and were an opportunity to share the Kingdom's vision while exploring potential partnerships and areas of collaboration.