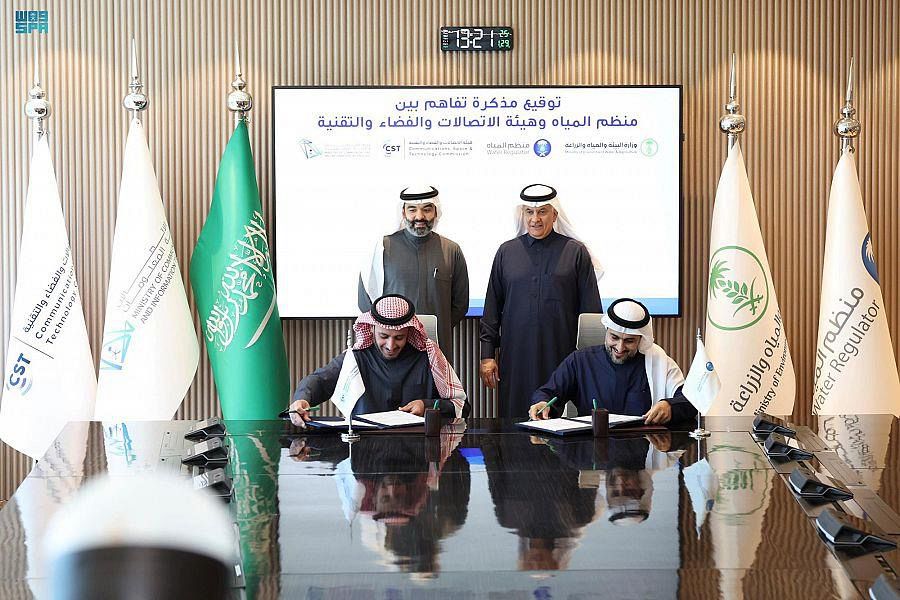 01/30/2023
CST Signed MOU with Water Regulator to Support Fiber Optics Extension
 Minister of Environment, Water, and Agriculture Eng. Abdulrahman AlFadley, and Minister of Communications and Information Technology Eng. Abdullah Alswaha attended the signing of a memorandum of understanding (MOU) between the Communications, Space, and Technology Commission (CST) and the Water Regulator at the Water Regulator's headquarter in Riyadh, which will reflect positively on the time, cost, and quality of the provided services while ensuring continuity of service for users and integration between parties to serve the public interest.
During the signing ceremony, the National Water Company was represented by the Vice Minister of Environment, Water and Agriculture and Chairman of the Steering Committee of the Water Regulator Eng. Mansour Al Mushaiti, while the Communications, Space, and Technology Commission was represented by CST Governor Dr. Mohammed Altamimi.
The MOU will assist the parties' efforts in maximizing the benefit of water sector infrastructure to expand fiber optics coverage in the Kingdom, exchanging information and support based on each party's area of expertise to find an effective fiber optics extending mechanism. It is also expected to improve telecom infrastructure and provide fiber optics to homes by sustaining infrastructure, lowering network delivery costs, increasing user access, innovating solutions to improve service quality, and reducing drilling and extending impacts.
CST is the Kingdom's regulator for communications, space, and technology and is in charge of monitoring and utilizing the sector's technologies and services, whereas the water regulator is responsible for organizing water service activities in the water system.